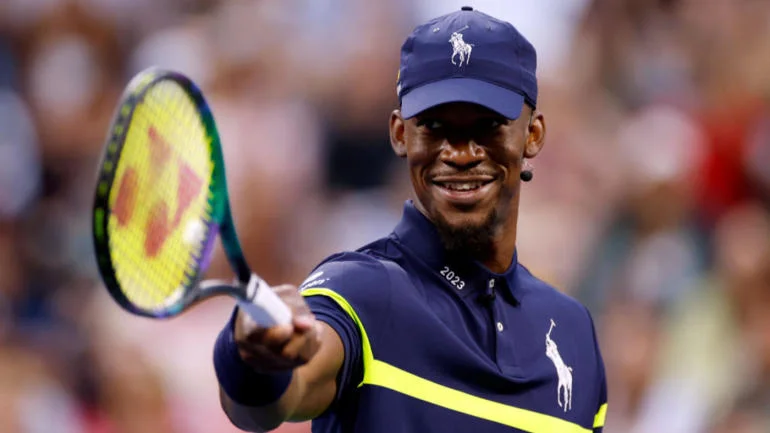 It's never been a secret that Jimmy Butler is one of the more competitive athletes around. On Wednesday, he displayed that competitive streak when he took a different kind of court.
During the US Open's "Stars of the Open" charity event, Butler was serving as the ball boy for a match between Frances Tiafoe and Alcaraz, and he even ended up subbing in for a brief period. Alcaraz ended up serving to Butler, and the six-time NBA All-Star scored a point against the world's top player.
Jimmy Butler just showed the world how to beat Carlos Alcaraz 👀 pic.twitter.com/k8WJYlY5Xh
— US Open Tennis (@usopen) August 23, 2023
After a few volleys, Butler returned a forehand shot following a drop shot from Alcaraz. While Alcaraz wasn't exactly playing at his top speed, it was still a very impressive effort from the Miami Heat star.
Butler has developed a reputation of being a very big tennis fan as he's attended several tournaments, including Wimbledon last month. He's also established a relationship with tennis star Coco Gauff in recent years, and he even invited her to the NBA Finals this past season.
Butler obviously isn't going to pick up the racket in place of a basketball anytime soon. However, he's clearly picked up a few things since he was able to score a point on Alcaraz.
Alcaraz — along with Grammy-nominated singer Sebastián Yatra — defeated Tiafoe and Butler in a tiebreak set, 15-13. However, Butler left the match feeling extremely good about his tennis skills. After all, he did go from ball boy training to getting a point against the tennis world No. 1 in a very short amount of time.
"It was great, like a dream come true for me," Butler said during his on-court interview. "I feel as though some people are top-ranked in the world, and my confidence, I feel like I'm one of those players."