'I put starting expectations on myself'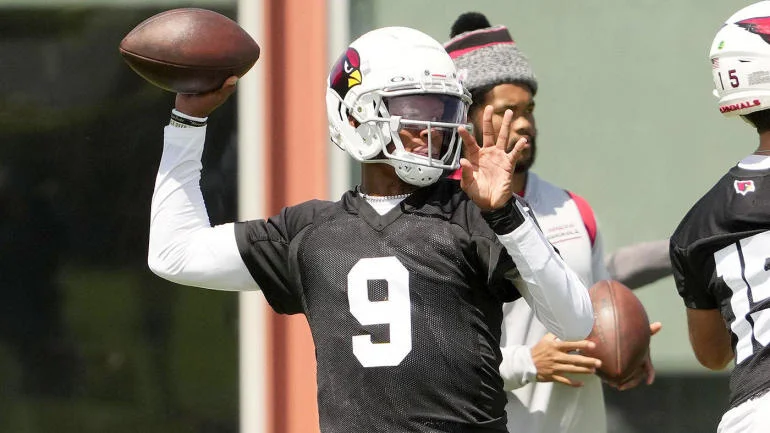 Joshua Dobbs is battling for the starting quarterback job in Arizona, less than a week after the Cardinals acquired him and moved on from Colt McCoy. There's a starting spot up for grabs as Dobbs will compete with rookie Clayton Tune for the job.
"I put starting expectations on myself," Dobbs told reporters Wednesday, via the Cardinals website. "I know the QB situation will play out however the coaches see fit. For me, I am ready to compete every day."
The Cardinals acquired Dobbs from the Cleveland Browns in exchange for a fifth-round draft pick in 2024. On a rebuilding team, Dobbs gets the opportunity to start for the entire season as the Cardinals look toward the future.
That is, if he wins the job.
"I have put in a ton of work, I have a ton of sweat equity and I am extremely prepared for the opportunity," Dobbs said. "But it doesn't mean I'm ever complacent."
Dobbs hasn't had much of an opportunity to start in the NFL, only getting his two opportunities with the Tennessee Titans at the end of last season. He completed 58.8% of his passes for 411 yards with two touchdowns and two interceptions (73.8 rating), while also having eight carries for 44 yards.
The Titans signed Dobbs in Week 16 and started him the final two weeks of the year to salvage a playoff collapse. Dobbs was the best option to keep the team in games after Ryan Tannehill was injured, an option he hopes to be in Arizona.
"He's a guy that understands football," Cardinals tight end Zach Ertz said. "He's got a really good grasp of this offense, so him coming into the huddle, calling the formations, calling the plays, has been seamless so far. And he throws a very catchable ball."
Head coach Jonathan Gannon won't name a starter yet, but Dobbs has a good of a chance as any signal-caller on the roster.