Chiefs GM has been in contact with star, 'hopeful' he's in lineup for season opener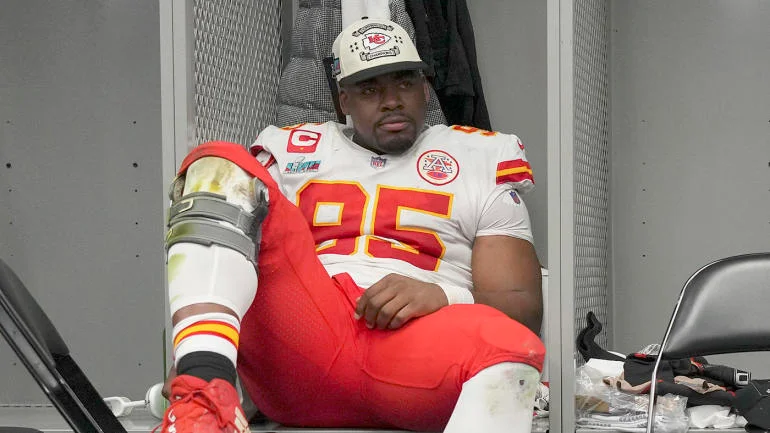 The 53-man roster deadline has come and gone, and as it stands now, Kansas City Chiefs star defensive lineman Chris Jones is not a part of that roster. Jones was placed on the Reserve/Did Not Report list Tuesday, which is another indication he's taking his holdout very seriously. NFL Media reported on Tuesday that there has been no new movement between the Chiefs and Jones. However, Chiefs general manager Brett Veach offered some hope to fans the very next day.
In speaking with reporters on Wednesday, Veach said he's "certainly hopeful" Jones' contract situation will be settled soon, and that he will be in the lineup when Kansas City hosts the Detroit Lions in the 2023 NFL season opener next Thursday, via NFL Media. Veach noted that there has been more communication between the two sides over the last few days. This is certainly a positive development, especially considering that Jones indicated on social media this month that he was willing to hold out until Week 8.
Jones has been holding out in hopes of landing a new contract. The All-Pro is entering the final year of his deal, and is due $20 million in cash in 2023, per Spotrac. The Athletic previously reported that Jones is looking for a new deal that will pay him $30 million annually. Veach admitted earlier this month that Jones is deserving of a pay raise.
"He's a great player, and he wants a big contract," Veach said, via the Kansas City Star. "He deserves a big contract, and I don't think there's any surprises in that regard. But there's just some hurdles we have to work through in regards to how we can keep this thing going for the short and long term. But we've never wavered on, 'This is a guy that we want to exhaust all of our efforts to get done,' because that's how much we think of him."
Jones has recorded the fourth-most sacks in the NFL over the past five seasons (56.5). He is a four-time All-Pro and four-time Pro Bowler. Just 29, Jones is a vital part of the Chiefs defense and team as a whole.