Kyle Shanahan hopes deal gets done soon, says 49ers won't consider trading star pass rusher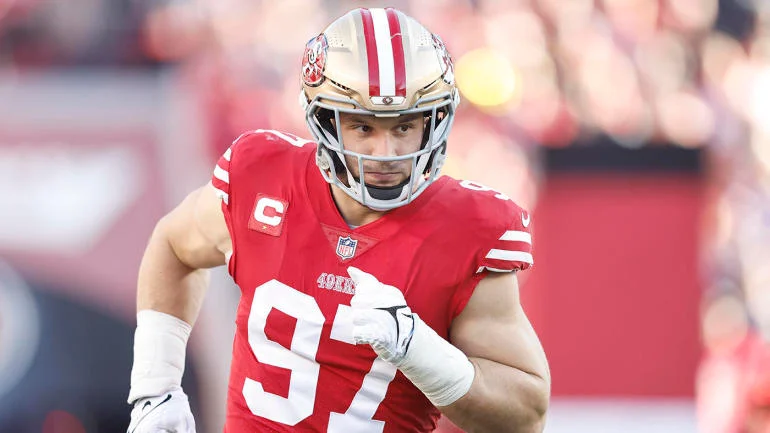 The 49ers made headlines last week when they traded Trey Lance, but they don't plan on making another shocking move when it comes to Nick Bosa, who is currently holding out in hopes of receiving a new contract.
While he expected something to be done by now, 49ers coach Kyle Shanahan told reporters Wednesday that he is hopeful that a deal will be "done soon," according to NFL Media. Shanahan then offered a short but direct answer when asked if the team would consider trading the reigning Defensive Player of the Year.
"No," Shanahan said.
It's one thing to trade a backup quarterback, as the 49ers recently did with Lance. It's an entirely different animal to trade one of the best defensive players in the league, as Bosa clearly is. The 25-year-old pass rusher is coming off a 2022 season that saw him pace the league with 18.5 sacks.
The second overall pick in the 2019 NFL Draft, Bosa has been named to the Pro Bowl in three of his first four seasons. The only year that Bosa wasn't tabbed as a Pro Bowler occurred in 2020, when he missed all but two games with an injury.
Last spring, the 49ers picked up Bosa's fifth-year option that would pay him $17.85 million for the upcoming season. Bosa's current market value is a four-year, $114.61 million deal that would pay him roughly $28.65 million annually, according to Spotrac. That deal would make him the league's highest-paid pass rusher, just ahead of Steelers linebacker and 2021 Defensive Player of the Year T.J. Watt. It's also more than what his big brother, Chargers' defensive end Joey Bosa, makes as the league's second-highest paid pass rusher behind Watt.
While Bosa remains unsigned, 49ers general manager John Lynch recently said that the team is "working diligently" to get a deal done. Lynch added that he is confident that Bosa (who has been training on his own during his holdout) will be in shape and ready to play when the contract issue is settled. The 49ers open the regular season at Pittsburgh on Sept. 10.
"Concern is a relative word," Lynch said during an interview with KNBR Radio, via USA Today. "I don't like the situation. Since our tenure here we haven't had a holdout anywhere towards this magnitude. Not something I'm comfortable with. We're working really hard to try to change that.
"We're in good communication with his reps. He's a special player, he's going to get a special contract, I can tell you that. We're getting closer and we're eager to bring this thing to a close."